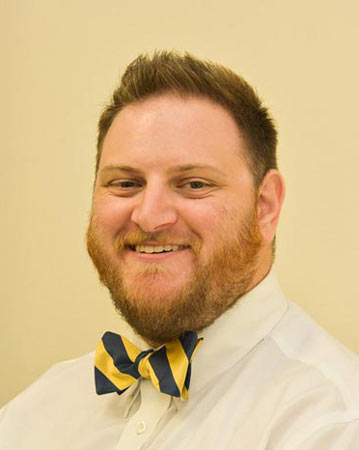 Steve Weinman, LICENSED MARRIAGE & FAMILY THERAPIST, (LMFT)
Hi, I'm Steve Weinman, the owner and a therapist with FFT. I was raised in a wonderful small town in Connecticut. Then I was off to Tallahassee, FL where I earned my bachelor's degree in family and child sciences from Florida State University.
Afterwards, I moved back north to earn my master's degree in marriage and family therapy from the University of Rhode Island. I loved living in a quaint New England town, but when I visited Savannah it felt like home. I fell in love with the city, including the people, the history, and the family first lifestyle. Now I live and practice as a therapist in Savannah GA, a dream come true.
Steve's Support
I love when our clients reach their therapy goals, and I'd love to help you too. That's why at this time, although I don't personally have openings for new clients, I'd highly recommend our other wonderful therapists. Both Kylee and Danai do wonderful work and would be great guides through your therapeutic journey. Thanks for your consideration and please continue on to get a feel for them as well.
Kylee Rogers, LAPC
Hi, my name is Kylee Rogers and I'd like to creatively and collaboratively work with your child towards their therapy goals. I enjoy working with kids ages 5-14, and utilize talk, play, and art to find solutions to your problems.
I earned my bachelor's in Child and Family Development from Georgia Southern, and my master's in Marriage and Family Therapy from Liberty University. Spending time under the supervision of play therapists has helped me develop a unique set of skills. I understand the unique minds of kids, and creatively get them engaged to work through their current obstacles. I'll also work closely with parents and families on techniques and tools to create positive changes outside of therapy.
What I can help with:
Children ages 5-14 who have problems with friends, issues at school, social skills, goal-setting, and more!
What Steve says:
"Kylee does amazing work with her kids and families. The progress and change families notice and tell me about in their kids is always wonderful to hear."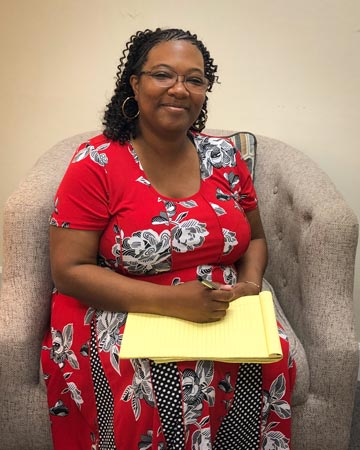 Danai Brown, M.A.
Now offering Saturday appointments!
My passion for mental health stems from personal experience. I grew up with close loved ones living with mental illness, have overcome grief and depression, and continue to maintain effective coping skills to decrease my own anxiety. I've also seen how therapy has helped me during these times, and I want to help you experience the benefits of life with therapy too.
I earned my bachelor's in Psychology and master's in Clinical Mental Health Counseling, both from South University. I'd like to extend my dedication and work together with you by establishing goals and steps for you to overcome your current problems. Commitment to the process is key. I believe in taking time and working on wellness, consistently. Thanks for getting an idea of who I am, and I look forward to helping you reach your goals for therapy!
What I can help with:
Anxiety, anger management, family conflict, couples issues, trauma, abuse, depression, Autism, grief, general life struggles, and more!
What Steve says:
"There is no one more positive and personable than Danai. Her clients trust her and always seem to be coming out of session laughing, smiling, and better off than when they arrived."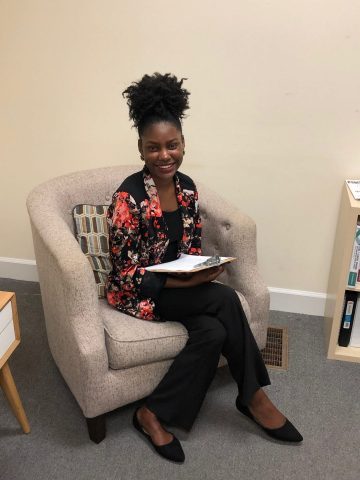 Briana Perry, Intern
Hi, I am Briana Perry, a student intern with Family First Therapy. I am a senior at Georgia Southern University, Armstrong Campus, studying Psychology in the College of Behavior and Social Sciences. I am pursuing a degree in psychology because I believe mental health is just as vital as physical health. 
After graduation, I plan to attend graduate school to continue my education in psychology and counseling to fulfill my goal of becoming a licensed counselor. My interest is to work with the youth and highlight the positive outcomes associated with counseling. Also, to demolish the negative stigma associated with seeking counseling within my community. I chose Family First for my internship because I like that it is a private practice setting that offers various counseling services for various ages. During my time here, I hope to learn how to operate in a professional counseling setting, gain hands-on field and learning experience, and strengthen my communication skills with clients. 
What Steve says:
"Briana brings a great passion for destigmatizing therapy to our team and community. I'm excited for her to observe and shadow our therapists in order to help further pursue this passion."
The Next Step
If you're looking to start finding those solutions and changes you'd like to see in your life, getting started has never been more easy and convenient. Use our user-friendly online booking to find a time that works for you.
Still have questions? That's okay too!  Whether you want to know the benefits of private pay, if your policy will cover my services, when appointment times are, or even what to expect from your visits, please visit our FAQ page.